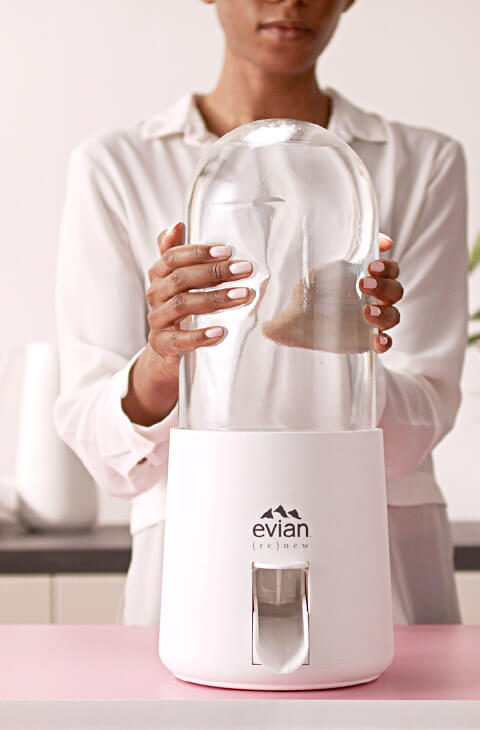 How to set up your evian® (re)new?
Comment installer ma fontaine evian® (re)new?
My first use of evian® (re)new

The spare parts (connector and spout & lever assembly) must be cleaned before the first use. After the first use, please clean the spare parts regularly (every week or each time the bubble is replaced) with hot water and washing liquid.

Please watch this video how to set up evian(re)new in just few simple steps:

You can also clean the base with a clean damp cloth.

​If you have any questions, contact us directly by phone at the following number:
UK: 0 800 4580366 / ROI: 1800 949993 – Free Call & Service.​

Ma première utilisation d'evian® (re)new

Les pièces détachables (connecteur et ensemble bec & levier) doivent être nettoyées avant la première utilisation, puis de manière régulière (chaque semaine ou à chaque changement de bulle) à l'eau chaude avec du liquide vaisselle.

Découvrez dans cette vidéo comment les entretenir de façon très simple:

Concernant la base, vous pouvez la nettoyer avec un linge humide propre.​

Vous avez le moindre doute ? Nous vous invitons à contacter nos experts, à votre écoute au 0 800 125 125, tous les jours et 24h/24 (appel et service gratuits), ou sur notre site Internet : danone.fr​

Mein erster Gebrauch von evian® (re)new

Die Ersatzteile (Verbinder, Auslauf- und Hebeleinheit) müssen vor dem ersten Gebrauch und danach regelmässig (wöchentlich oder bei jedem Bubble-Wechsel) mit heissem Wasser und Spülmittel gereinigt werden. ​

Entdecken Sie in diesem Video, wie evian® (re)new ganz einfach installiert werden kann:

Die Basis kann auch mit einem sauberen, feuchten Tuch gereinigt werden.​

Sollten Sie Fragen haben, schreiben Sie uns eine E-Mail an site@evian.ch.