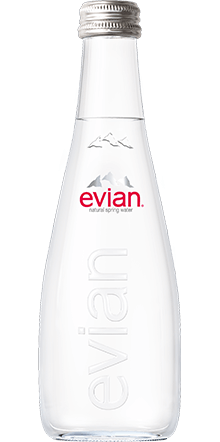 Our evian water glass bottle 33cL is the perfect elegant touch for events or entertaining guests.
Always have some on hand with our case of twenty.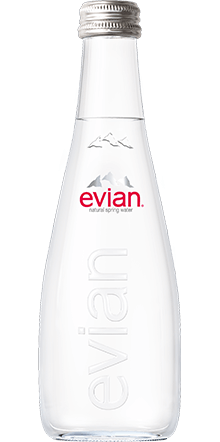 Mineral composition (mg/L)
Calcium

80

Magnesium

26

Potassium

1

Sodium

6.5

Nitrates

3.8

Bicarbonates

360

Sulfates

14

Silica

15

Chlorides

10
Water attributes
Naturally occurring electrolytes and minerals
Characterized by a natural blend of electrolytes and minerals. This natural composition contributes to our cool, crisp taste.
Hydration from the French Alps
Our water filters through glaciers and rocks for 15 years before we bottle it.
7.2 pH
evian is neutrally balanced.
Carbon neutral
Our evian bottling site was certified Carbon Neutral by the Carbon Trust in 2017. Up until April 2020 we progressively made our journey towards a global certification, and will continue to optimize to maintain our carbon neutral status each year.