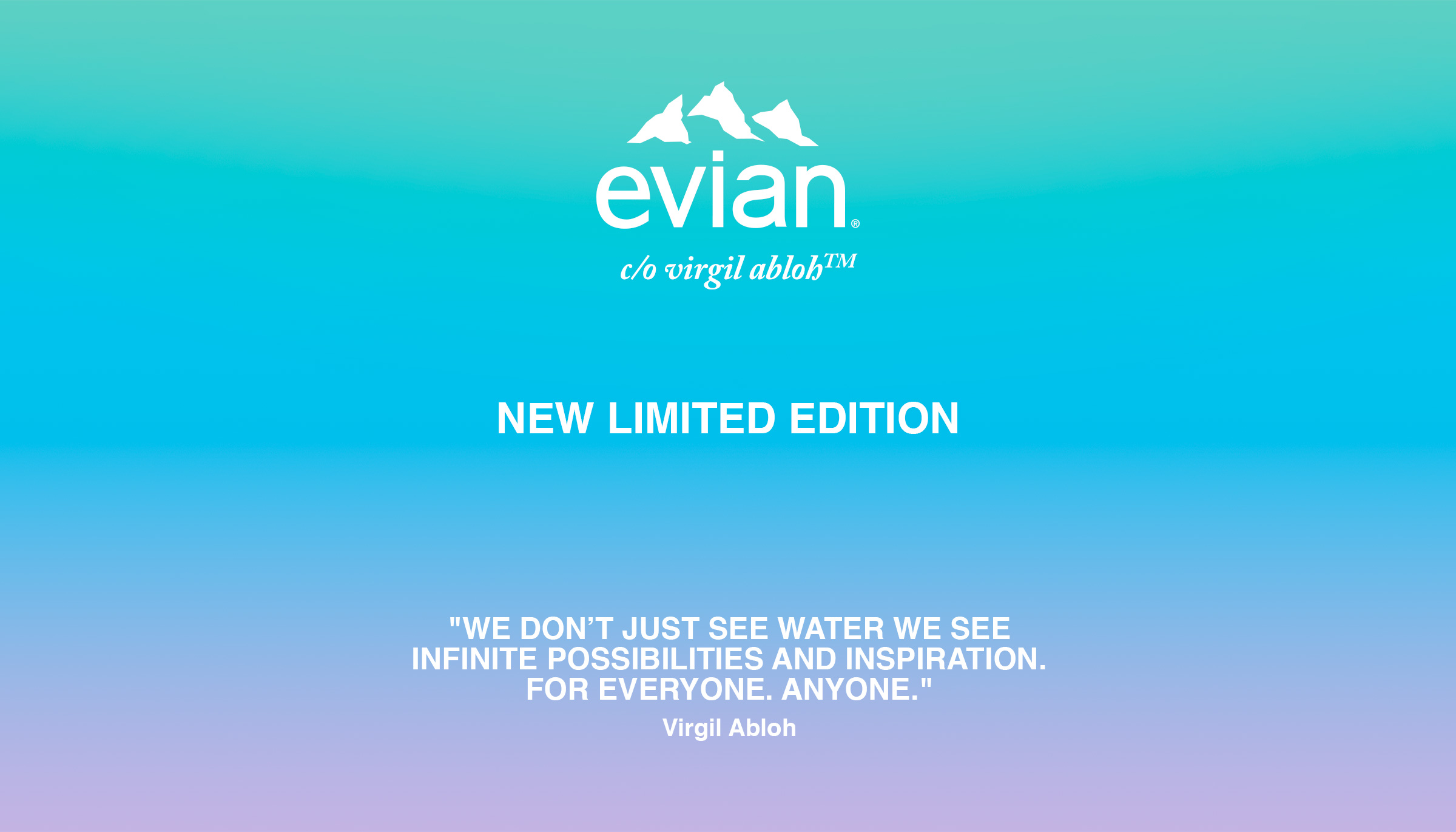 Limited Edition
evian® and visionary designer Virgil Abloh reveal the first creative project of their limited-edition "One Drop can make a Rainbow" collection.
Created to expand ways to hydrate while offering new sustainable choices, these stylish and collectable items are bringing together Virgil and evian®'s shared vision.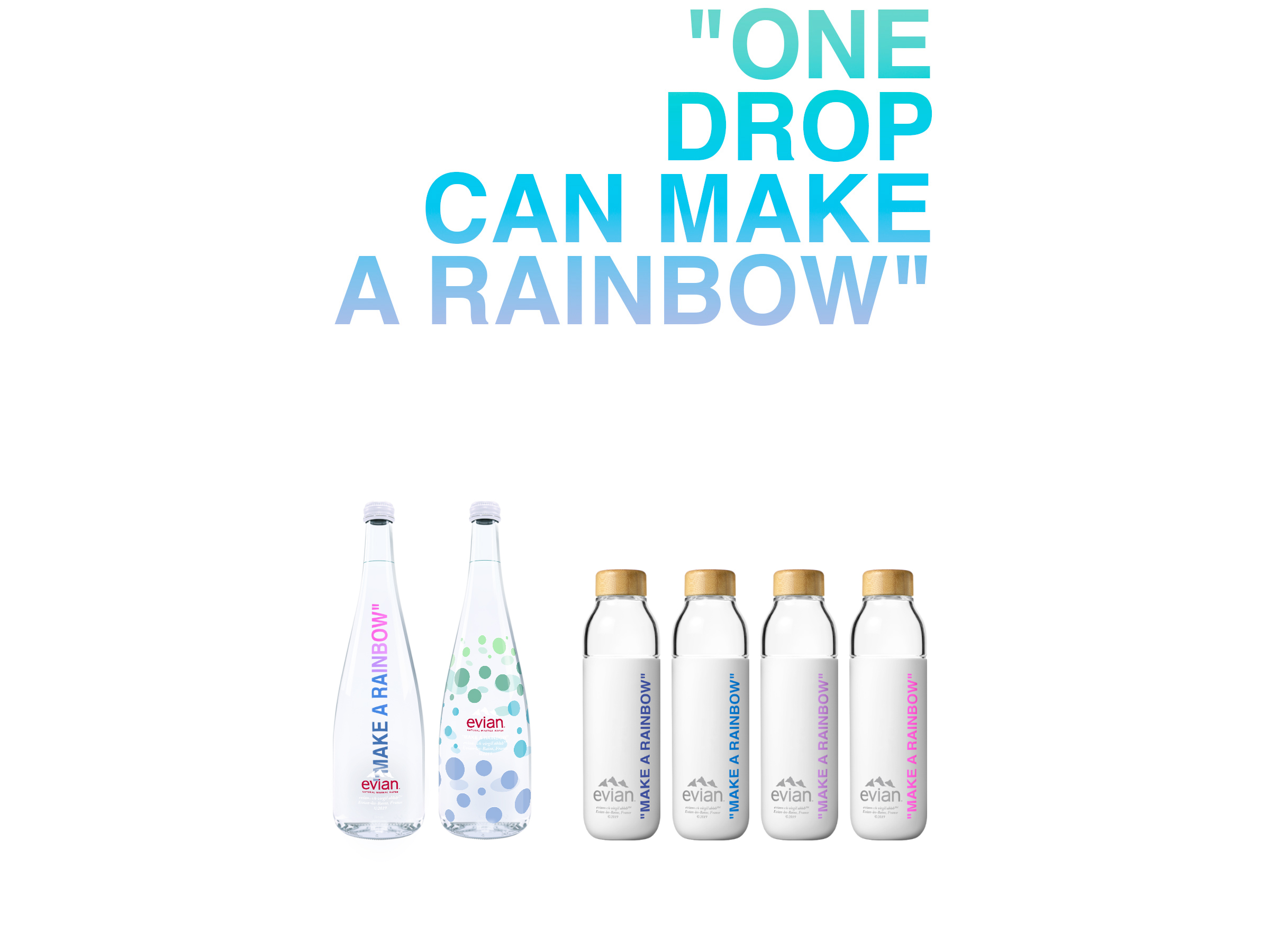 ABOUT THE INSPIRATION
Virgil's designs for evian® are inspired by one of nature's most beautiful but simple phenomenon: the rainbow.
Speaking about this concept, Virgil commented:
"The notion that one drop of water can create a rainbow served as the inspiration and metaphor to drive my first project as evian®'s Creative Advisor for Sustainable Innovation Design.
As light refracts through that droplet, it reveals its full polychromatic potential. We don't see just water, we see infinite possibilities and inspiration for anyone. Everyone."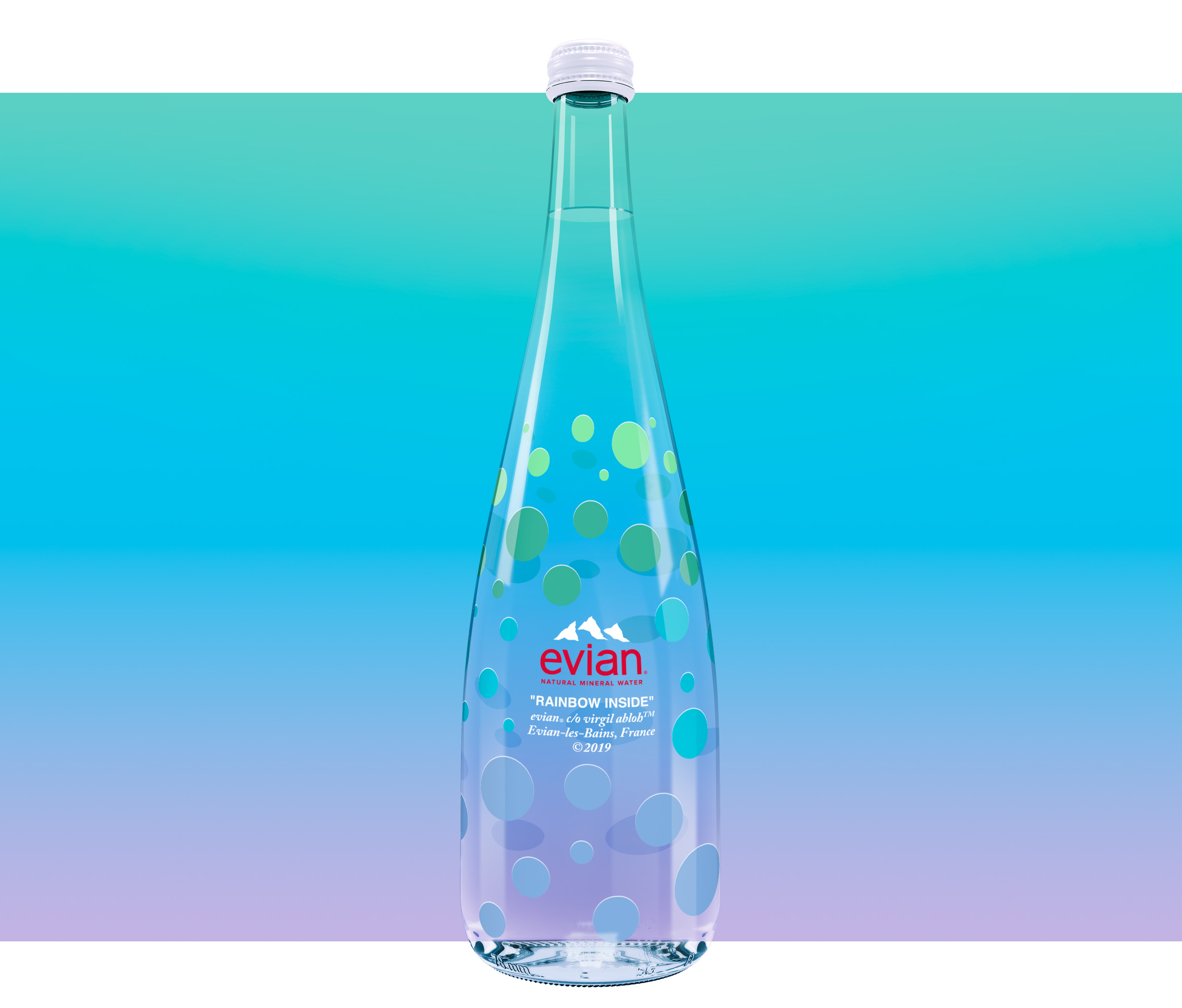 ABOUT 2019 LIMITED EDITION 75CL GLASS BOTTLE
Continuing evian®'s long-established collaboration with the fashion world, the forward-thinking creative applies his design vision to this year's iconic collectable limited-edition glass bottle.
The 75 cL bottle is adorned with perfectly formed water drops in a range of arresting colours, continuing the "One Drop can make a Rainbow" concept.
The texclusive design will be available in limited quantities at select retail locations listed on evian® global website.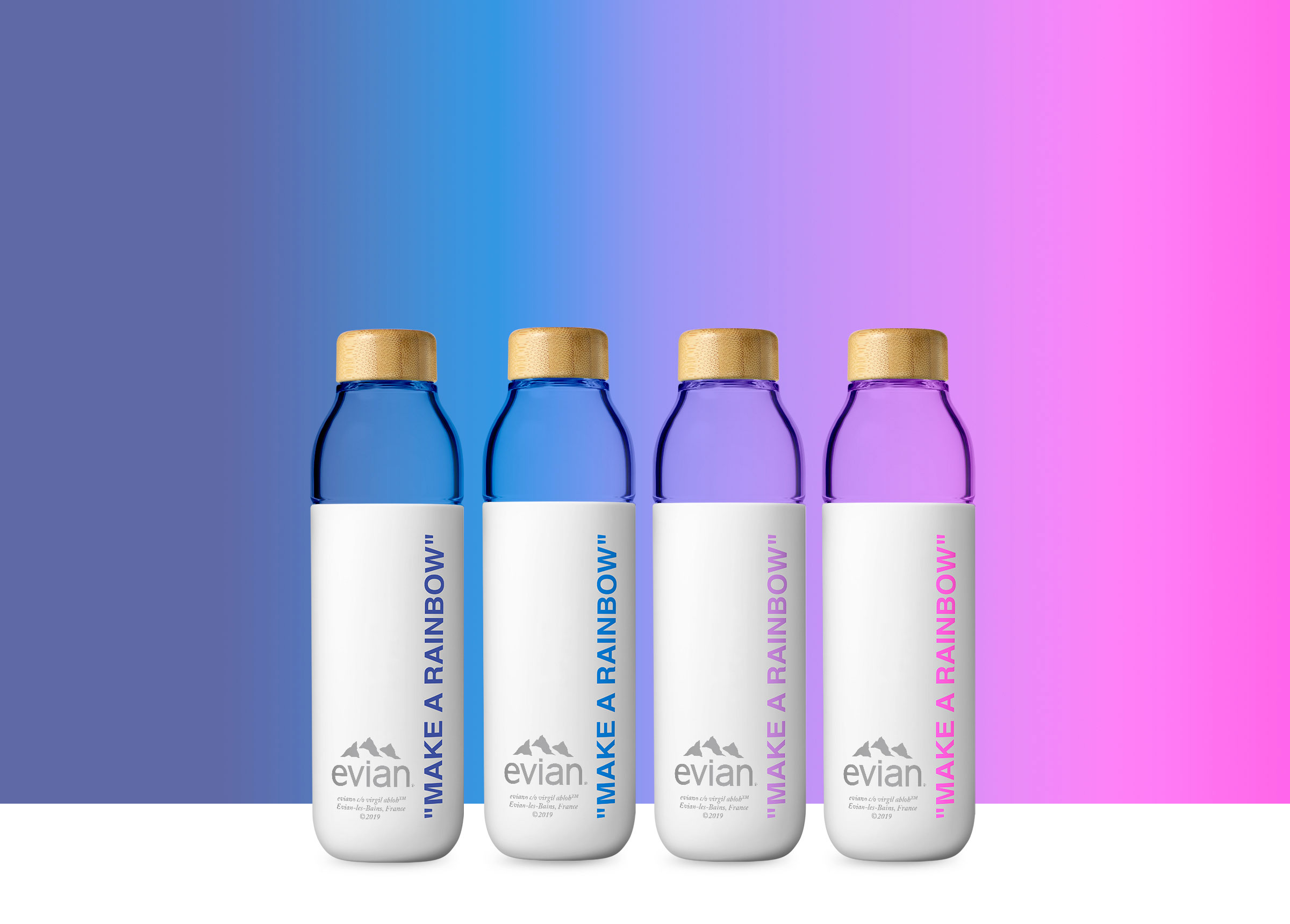 ABOUT EVIAN BY VIRGIL ABLOH SOMA BOTTLE
A highly-desirable, refillable Soma glass water bottle, designed as a hydration accessory for a trendy and conscious generation always on the go who want to enjoy natural mineral water.

The shatter-resistant glass bottle has an easy grip protective silicone sleeve, leak-proof natural bamboo cap and is emblazoned with Virgil's "Rainbow Inside" mantra in an array of eye-catching colours.
Soma by Virgil Abloh will be available via MATCHESFASHION.COM in a limited run as of 25th of February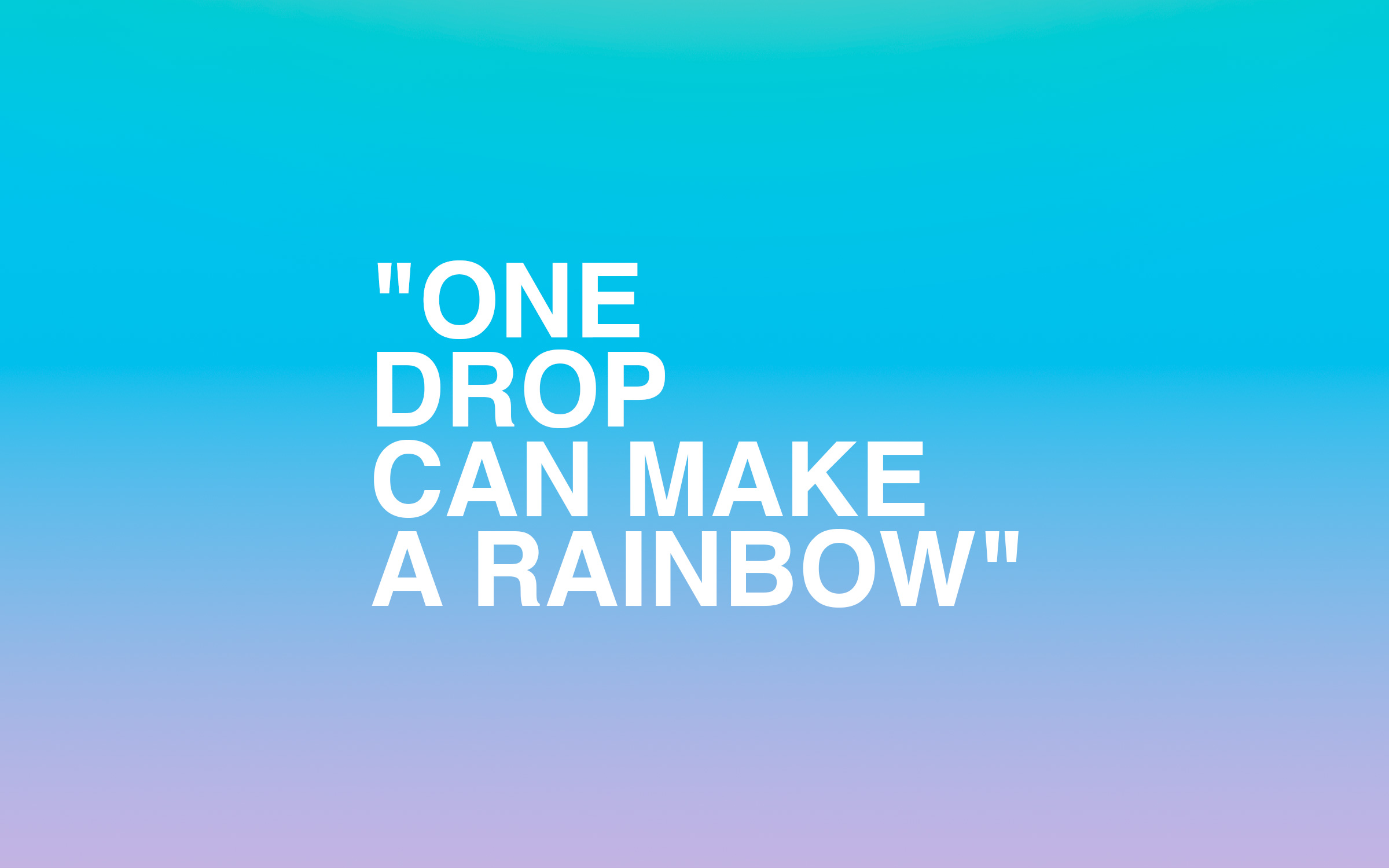 LIST OF RETAILERS
EVIAN BY VIRGIL ABLOH SOMA BOTTLE
One month exclusivity from the 25th of February on MATCHESFASHION.COM
Also available in Paris at evianchezvous.com
75 CL GLASS BOTTLES
EUROPE
Switzerland: Manor, Globus, Jelmoli
Germany: Käfer München, KADEWE Berlin
France: La Grande Epicerie, evianchezvous.com
The Netherlands: De Bijenkorf
UK: TBC
AMERICAS
US : Will be available in limited quantities at select restaurants and bars. Stay tuned!
ASIA
Japan: TBC
China: Available in Autumn/Winter 2019
RUSSIA - MIDDLE EAST - LATIN AMERICA

TBC